Biography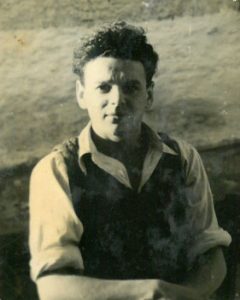 Dimitris Maniotis
A self taught Greek painter of the 20th century
Dimitris Maniotis was born on July 10, 1923, in Odessa, Ukraine. His mother Olga Symeonova, a Russian woman of Italian descent, born in St. Petersburg, was trained to be a maid of honour in the tsar's court. His father Thomas Maniotis, an immigrant to St. Petersburg, was a tradesman. He met and got married to Olga in the beginning of 1910. Their first daughter Evgenia was born there.
When the October Revolution started in 1917, the couple found refuge in the south, in Odessa, in hopes that the Revolution would not expand and affect them. There, their second daughter Lisa was born but died a few years later from scarlet fever. Their son Jimma, a nickname for Dimitris, was born later in 1923.
The couple tried to find a way to leave the Soviet Union but in the end they stayed there.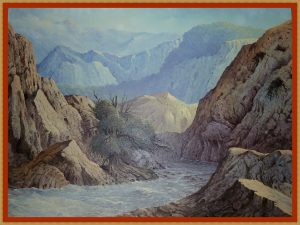 His father was appointed to be in charge of the Siberian Taiga. Young Dimitris would have many memories of the wild Siberian nature; memories which he would later depict on canvas with exceptional liveliness, painting poplar-birch forests, bears and other animals, sometimes in wild and at others in tender moments but always with his apparent love for nature.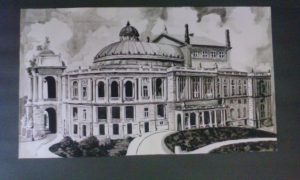 Later on, Thomas Maniotis worked at the Odessa Opera Bistro. It is there that Dimitris heard opera and classical music for the first time; an art he would love almost as much as painting.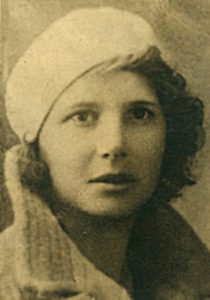 Dimitris graduated from high school in Odessa. That is where his aptitude for painting was noticed and where he took his very first painting classes as an exceptional talent.
During Stalin's rule, in 1939, his father refused to receive the Soviet citizenship and therefore was deported to Siberia. His family was torn apart since his sister Evgenia had already received the Soviet citizenship through marriage and remained in Odessa, whereas Dimitris and his mother ended up as refugees in Greece.
His mother died of hunger in 1941, during the Axis occupation and Dimitris was saved by the then mayor of Syros, Thodoros Karakalas. He, being a man of art and intellect and having detected young Jimma's passion and great talent in painting, gave him food and a roof over his head and provided him with painting materials.
After the war was over, he moved to Athens, where, despite his young age, he was admitted by exception to the School of Fine Arts because of his outstanding talent. Being always however a liberal spirit with an explosive temperament, he could not stand formalism and his professors' comments that he used too much red (communist) colour. So, he dropped out of school.
For a short period of time, he studied under the painter Spyros Vikatos and was taught sculpture by Vasos Falireas.
In 1948, he got married to Katerina Kervanidou (child of an Asia Minor refugee couple) whom he had met on Syros. She studied at the time at the Ralleion Academy and became a teacher. In 1949, their first son was born. Dimitris Maniotis feeling love and gratitude to Theodoros Karakalas named his son Theodoros, and the boy was baptized by him as well. At Christmas 1950, his daughter Olga was born and named after his mother.
For a few years, he lived off pottery, working at the Kerameikos factory so that he could obtain the essential painting supplies. He was taught pottery by the well-known German ceramist Max Elster. In 1980, he taught his daughter Olga how to paint on ceramics.
In 1952, they moved to Kalamata where he took charge of the art department of Kerameikos. There, he continued painting and exhibiting without giving up his love for painting. At that time, his work was influenced by his favourite painter Delacroix until he found his own element and painting style. In Kalamata, in August 1954 his third child Achilleas was born (named after his wife's father).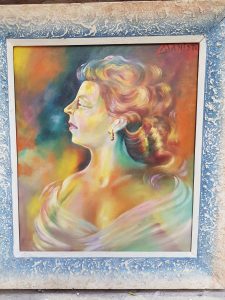 In 1955, he moved to Samos where his wife was hired as a school teacher. There, at last free of money worries, he applied himself to his art. His strongest point could be found in large surfaces through which he expressed himself better. In 1956, he stayed in Kontakeika, Samos due to his wife's job transfer. Inside a small house he would spread his canvas and paint 'free souls'. That is how he used to call horses. Since the space was small, he would go outside the house and look at the painting through the window so he could see the whole thing from a distance. During that time he struggled to escape Delacroix's influence.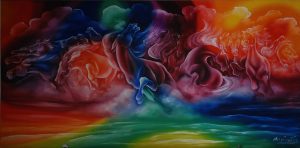 In 1959, they moved to the capital of the island, Vathi, where he incessantly painted inside bigger spaces. It is there that he conceptualized his new technique of covering a surface with the iris colours (not in a straight line but in circles or semi-circles), letting it dry well and then painting on that basis his theme in white color. In 1960, in Parnassos, he will exhibit a painting of that technique, dedicated to all free souls of the world (horses). That painting was bought by the Greek shipowner Nikos Nomikos.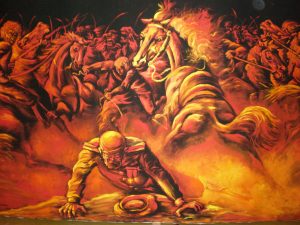 Looking for even bigger spaces, he came across a large mansion (owned by the big German tobacco merchant Mielberg) which was the most suitable place both in height and length. It is there that he would paint his largest painting, the 'October Revolution' (30 meters long and 2 meters high!). As there was no 30-meter long canvas, he had to order three 10-meter rolls of black canvas from Holland so that he could have the background ready.
He painted the 'October Revolution' using solely his bare hands, palms, fingers and nails. So, when his fingers would get cut and scraped he would stop until they healed and he could start all over again.
The largest surface he could hang in his studio was 7 meters long. Consequently, he would paint a 7-meter long canvas and wait for it to dry well so that he could roll it up. Afterwards, he would paint the next part of the painting and then join all parts together. He was finally able to see the whole painting finished when he displayed it at an exhibition in Zappeion, Easter 1969. It took him two years to complete the painting (1963-1965). Maniotis had the gift to paint very fast. Besides, his own painting techniques required that and the huge surfaces to which he applied himself demonstrate the speed at which he painted.
The historic event of the October Revolution was used as an excuse but also as a stimulus for man's rebellion against limitations and for his eternal battle for a higher cause. Dimitris Maniotis expressed a personal as well as a more general symbolism and tried to break up the restraints of conventional space. That is exactly why his painting had no end, symbolically leaving the way for evolution open. Vivid colours of red, green and yellow bring out the figures of the warriors.
It was also in Mielberg that 'LIFE', his tallest painting (7.5 meters long and 5 meters tall, painted using the above mentioned technique) and many other big works of his were painted. Small changes were made in the painting technique he had conceptualized, always using the iris colours.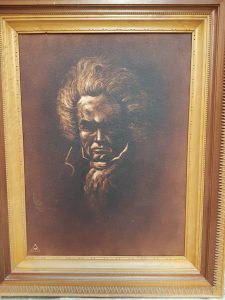 He also started making his first 'fading' paintings (single and multi-colored). He would paint a surface with a single colour and, while the paint was still wet, he would remove it. In doing so, the white canvas from underneath would show and reveal his theme.
He stayed on Samos until 1966 and then returned to Athens permanently. He continued painting nonstop, creating a huge collection of nearly 1000 big and small paintings which included his favourite themes: landscapes, horses, sea paintings, mythology, nudes.
That is how he started having large solo exhibitions at the Zappeion Mansion in Athens and in other spaces as well. Several of his paintings are to be found in shipowners' houses (due to their size), at the National Gallery, the Frissiras Museum, the Library of Samos and in many friends' homes. Furthermore, Maniotis would give his paintings away should a stranger spontaneously express his wish to own one of his paintings but could not afford it.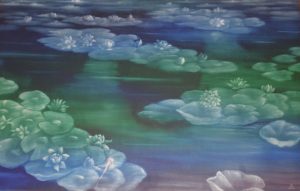 He kept on painting until the end of his life on April 3, 1985. He died before his time, at the age of 62, leaving many of his paintings unfinished. According to the doctors, his lung cancer was due to the toxic substances of the colours he inhaled while they were still fresh for several hours a day.
Apart from painting, he was also involved in writing essays about art, funny articles about current events (unpublished) and poetry. In 1978, two poetry collections were published: '… and the myth goes on…' and 'Human scent' in which original drawings of his are included.
Αφιέρωμα στο Δημήτρη Μανιώτη, Περιοδικό Νέα Σύνορα, Τεύχος 114, 2012, Δημήτρης Βαλασκαντζής